OMG Josh's hit show from
2014/2015 school year:
The Adventures of Dr. Gigglewatt is still available! Check out our 2018 Show Offerings!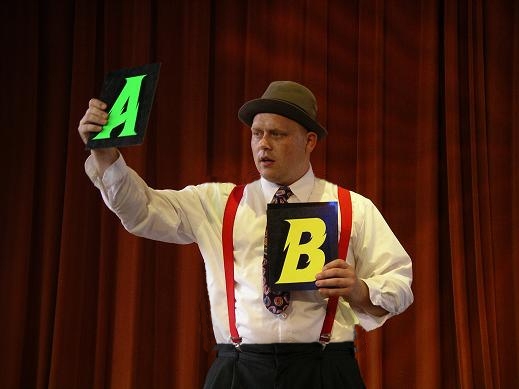 I'm reading a book about anti-gravity. It's impossible to put down.

-OMG Josh

The Adventures of Dr. Gigglewatt
(aka Oh My Gosh Josh)
Show comes complete with a study guide for
pre and post show support!
Theme: Science, Literacy, Persistence

Join Dr. Gigglewatt for a stupefying and semi-accurate telling of his scientifically invented adventures. You can expect: madcap experiments of balance with a skunk, a tissue that comes alive like Frankenstein and the whole audience learns that what goes up doesn't always come down. Oh My Gosh Josh's unique storytelling, magic, juggling and circus stunts will have your audiences laughing, learning and ready to read!

OMG Josh has been writing and producing literacy and other educational themed shows for himself and others to perform for over 10 years. His biggest hits have included - 'The Pirates of Reading Island' and 'The Character Circus'. In 2011 he performed his science based reading show, 'Dr. Gigglewatt and The Science of Bubbles' at the Smithsonian Museum in Washington DC!


Book OMG Josh today for the 2017/2018 school year!
314-803-5180
booking@circuskaput.com
©2022 Oh My Gosh Josh

OMG Josh is booked by Circus Kaput www.circuskaput.com

St Louis events are exciting and entertaining with the right St Louis event that includes juggling, comedy hypnosis, face painting, stilt walking, sideshow, and magic. We are sure you will agree, Circus Kaput does great events in Missouri and Illinois.

The best Midwest event entertainment whether you are looking for hypnotists, magicians, caricaturists, face painters, jugglers, stilt walkers, fire performers comedians or more for your next birthday party, block party, wedding, corporate event, mitzvah, festival, school assembly or any other type of event in Missouri and Illinois
Circus Kaput offers a wide variety of novelty acts, shows and strolling performers for any occasion. When you contact us, ask about our special package deals.
Circus Kaput is based in Based in St. Louis, MO and we book our entertainers mostly in Missouri and Illinois. We also book our performers for dates nationally and abroad.
This web site is maintained by Circus Kaput to provide information about OMG Josh, Oh My Gosh Josh, Circus Kaput(CK) booking services and to provide links to sites of independent CK subsidiaries that provide variety entertainment services in the USA.
Circus Kaput is based in St. Louis, Missouri

314-803-2503
josh@circuskaput.com