What's my biggest secret?
I never say, "I can't!"
Instead I say, "How do I?"

-OMG Josh

Oh My Gosh Josh wasn't born knowing how to do all of his silly and amazing stunts. Most of it was learned by asking lots of questions and reading lots of books!
Click a link above to find out How to -
Tell A Joke
,
Do A Magic Trick,
Learn To Juggle
or
Make A Balloon Animal.
To do your own research, he has some good books to suggest under the link
Great Books
. Also, if you have a question, you can
message OMGJosh
and ask him anything!
Also you can book Josh to teach a workshop for your group!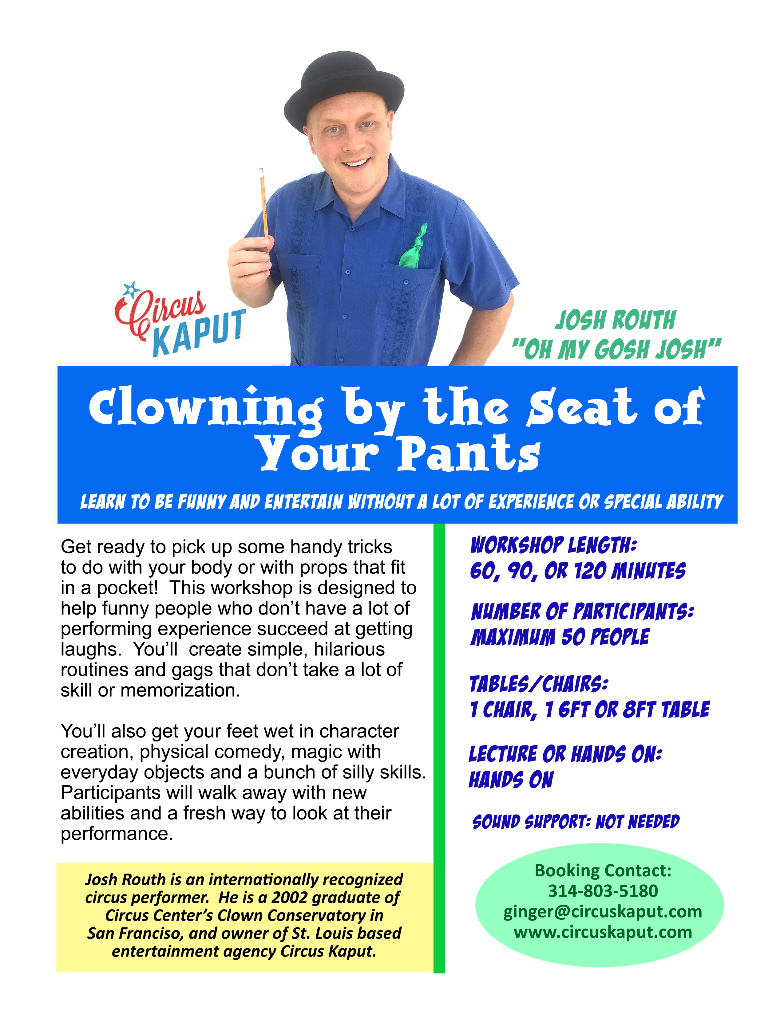 OMG Josh performs magic, juggling, circus stunts, stilt walking, acrobatics and more!!

YOU CAN BOOK OMG JOSH FOR EVENTS!

Click on the CONTACT link at the top of the page

©2018 Oh My Gosh Josh

OMG Josh is booked by Circus Kaput www.circuskaput.com

St Louis events are exciting and entertaining with the right St Louis event entertainment along with juggling, comedy hypnosis, face painting, stilt walking, sideshow, and magic. We are sure you will agree, Circus Kaput does great events in Missouri and Illinois.

The best midwest event entertainment whether you are looking for hypnotists, magicians, caricaturists, face painters, jugglers, stilt walkers, fire performers comedians or more for your next birthday party, block party, wedding, corporate event, mitzvah, festival, school assembly or any other type of event in Missouri and Illinois
Circus Kaput offers a wide variety of novelty acts, shows and strolling performers for any occasion. When you contact us, ask about our special package deals.
Circus Kaput is based in Based in St. Louis, MO and we book our entertainers mostly in Missouri and Illinois. We also book our performers for dates nationally and abroad.
This web site is maintained by Circus Kaput to provide information about OMG Josh, Oh My Gosh Josh, Circus Kaput(CK) booking services and to provide links to sites of independent CK subsidiaries that provide variety entertainment services in the USA.
Circus Kaput is based in St. Louis, Missouri

314-803-2503