I do brilliant tricks. Watch this: think of a number.... any number.... 42! Was I right? Amazing! Wait, it wasn't it? You'll have to work on your end of the psychic link. ;0)

-OMG Josh

"Just wanted to say thank you. The audience was very entertained and you did a great job. My son asked me this morning if that was really fairy dust on the knot, LOL. I will make sure to recommend you to anyone who needs entertainment. Thanks again!"
-Angela W. - Banquet Client

If you are looking for great entertainment for any type of group, OMG Josh has got you covered. Below is a list of the kinds of shows OMG Josh typically does. He has performed for corporate events, grade schools, universities, high schools, weddings and even the
Smithsonian Museum
in Washington DC!
New show for Adult Audiences!
Amazing and Entertaining Shows!
-
Magic
- OMG Josh does comedy magic that plays to the audience he is working for. He has a huge repertoire of tricks and jokes that are always appropriate.
-
One Man Circus
- A comedy circus show featuring amazing circus skills and audience participation
-
Juggling
- OMG Josh performs solo, but he also has a hilarious show that he does with a partner.

- Fire Shows - OMG Josh can twirl, juggle breath and eat fire in a dazzling display. It will really light up your night!

OMG Josh also does strolling or mingling entertainment. He can juggle, walk stilts, do magic, and so much more!!

Fun Fact: OMG Josh is a member of Sword Swallowers International. Meaning he is one of only 100 Sword Swallowers in the world!!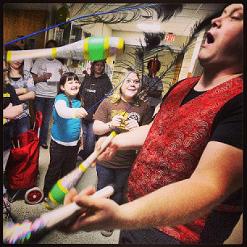 ©2018 Oh My Gosh Josh

OMG Josh is booked by Circus Kaput www.circuskaput.com

St Louis events are exciting and entertaining with the right St Louis event entertainment along with juggling, comedy hypnosis, face painting, stilt walking, sideshow, and magic. We are sure you will agree, Circus Kaput does great events in Missouri and Illinois.

The best midwest event entertainment whether you are looking for hypnotists, magicians, caricaturists, face painters, jugglers, stilt walkers, fire performers comedians or more for your next birthday party, block party, wedding, corporate event, mitzvah, festival, school assembly or any other type of event in Missouri and Illinois
Circus Kaput offers a wide variety of novelty acts, shows and strolling performers for any occasion. When you contact us, ask about our special package deals.
Circus Kaput is based in Based in St. Louis, MO and we book our entertainers mostly in Missouri and Illinois. We also book our performers for dates nationally and abroad.
This web site is maintained by Circus Kaput to provide information about OMG Josh, Oh My Gosh Josh, Circus Kaput(CK) booking services and to provide links to sites of independent CK subsidiaries that provide variety entertainment services in the USA.
Circus Kaput is based in St. Louis, Missouri

314-803-2503
josh@circuskaput.com