Reading Takes YOU Everywhere!(IL) and LIBRARIES ROCK! (MO)
THEMED SHOW!
In 2017 over 10,000 people saw Build A Better Story and loved it! Coming soon for Summer 2018 get ready for....
'Mystery at Camp Runamucka!'

Sherlock Holmes and Dr Watson go camping. In the middle of the night Holmes wakes Watson up: "Watson, look up at the stars, and tell me what you deduce."
Watson: "I see millions of stars and even if a few of those have planets, it's quite likely there are some planets like Earth, and if there are a few planets like Earth out there, there might also be life."
Holmes: "Watson, you fool! Somebody's stolen our tent!"
-OMG Josh
Oh My Gosh Josh presents:
Mystery at Camp Runamucka!
- 55 minutes
Join Oh My Gosh Josh for a trip to Camp Runamucka, where a mystery is at hand. You'll meet Brian the Raccoon who learns that someone at camp is an imposter trying to shut down the fun! Can we solve the mystery together? Rock out with a campfire sing-a-long and hear tall tales that reveal clues to the mystery. Be thrilled and amazed by circus stunts, magic tricks and audience participation that move the story along. You will laugh and sing your way to the solution. In the end we will solve the riddle with library books!
PRICING
1 or 2 shows $300 each show
Block Booking is available with discounted prices. Block booking is defined as three or more shows on ONE contract.
3-5 shows $275 each show
6 or more is $250 each show
Our service area is Missouri and Southern & Central Illinois, up to Quincy & Springfield. We are no longer serving Kansas or Northern Illinois.
TRAVEL RATES - Prices above do not include travel.
Info such as travel rates and more can be found at: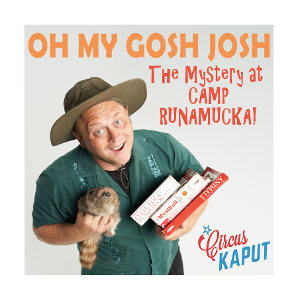 Summer 2018!
He is represented by Circus Kaput:
314-803-5180
ginger@circuskaput.com
www.CircusKaput.com
©2018 Oh My Gosh Josh

OMG Josh is booked by Circus Kaput www.circuskaput.com

St Louis events are exciting and entertaining with the right St Louis event entertainment along with juggling, comedy hypnosis, face painting, stilt walking, sideshow, and magic. We are sure you will agree, Circus Kaput does great events in Missouri and Illinois.

The best midwest event entertainment whether you are looking for hypnotists, magicians, caricaturists, face painters, jugglers, stilt walkers, fire performers comedians or more for your next birthday party, block party, wedding, corporate event, mitzvah, festival, school assembly or any other type of event in Missouri and Illinois
Circus Kaput offers a wide variety of novelty acts, shows and strolling performers for any occasion. When you contact us, ask about our special package deals.
Circus Kaput is based in Based in St. Louis, MO and we book our entertainers mostly in Missouri and Illinois. We also book our performers for dates nationally and abroad.
This web site is maintained by Circus Kaput to provide information about OMG Josh, Oh My Gosh Josh, Circus Kaput(CK) booking services and to provide links to sites of independent CK subsidiaries that provide variety entertainment services in the USA.
Circus Kaput is based in St. Louis, Missouri

314-803-2503
josh@circuskaput.com